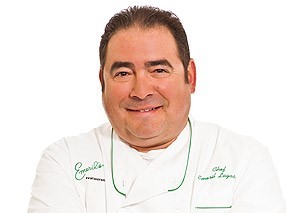 Faced with the reoccurring decision of where to eat on or around 30A the weekend of the big race and once again can't decide? With so many great choices, it really is a shame you can't experience more than a handful of what our special area has to offer. Well, we might just have the perfect solution to your little conundrum. Seaside School Foundation is excited to introduce the Inaugural Taste of the Race 2015. Along with South Walton, Emeril's Florida and Chef Emeril Lagasse present Taste of the Race, Friday, February 27, 2015. This event is held in conjunction with The Seaside School Half Marathon & 5K Run. You'll have the opportunity to enjoy cuisine from some of the Gulf Coast's top chef's from top restaurants: Emeril's, Emeril's Tchoup Chop, Jim 'N Nick's BBQ, The Bay, Great Southern Café, Stinky's Fish Camp, Bud & Alley's, Chan's Wine World, and many more.
The evolution of this event really has been organic. Ok, I have my foodie hat on, so please forgive me..I couldn't resist. But truly, this has all truly evolved organically. What began as a humble 5K /Half Marathon, Seaside School's Foundation's annual race has grown greatly since its inception. Race "day " quickly became race "weekend", then became race "long weekend", then suddenly morphed into race "week"! You like us you really like us! We get it! Needless to say we like you too and love welcoming you each year. We are thrilled your race day has become race week, and now because of Taste of the Race, there is one more great reason to arrive early and bring your friends and family with you to Northwest Florida. "We learned that historically, race participants have friends and family tow along, and while they may not be runners themselves, they want to come to our beautiful beaches and join in on the beautiful weather and all the fun. Taste of the Race is an event for
everyone," says Alicia Butler, Director of Development for Seaside School Foundation, Inc. There are two ways to get in on the fun. The Foundation has partnered with world renowned Chef Emeril Lagasse to offer only 100 coveted tickets to an hour long VIP pre-party where you get entrance to the main event, a special gift and a photograph with Chef Lagasse, as well as drinks and hors d' oeuvres. If being a VIP isn't your thing and you prefer to fly under the radar, you can join in on the fun a little later with General Admission passes. Conveniently, race packet pick-up will be available to party goers Friday evening. Beverages will be served by Grayton Beer, Chan's Wine World, and Coca-Cola. The VIP Reception is $250 per ticket, and General Admission is $99.
So get your Mis en Place (that's chef talk for getting your act together ahead of time), and order your tickets now, before you miss out on this super fun and delicious event! To purchase tickets, please visit www.tasteoftherace.eventbrite.com. We look forward to seeing your smiling faces.