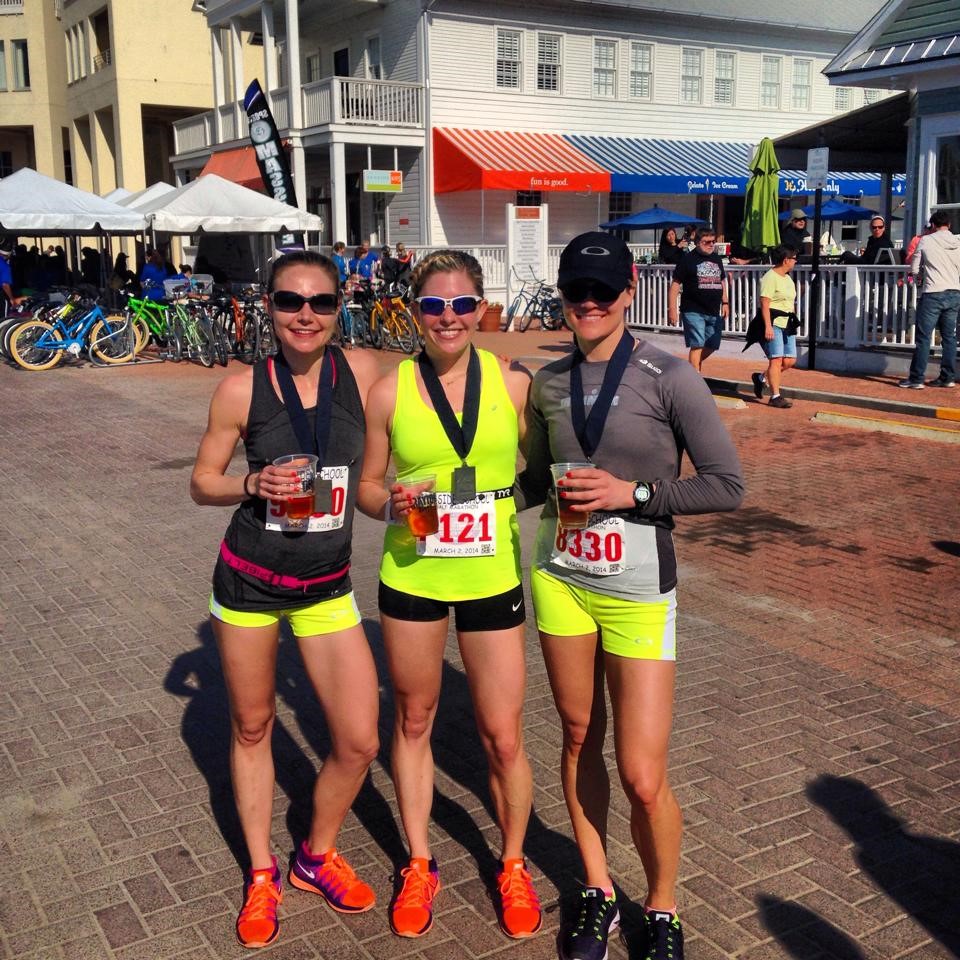 Girls from all across the country use the Seaside School Half Marathon and 5K as a reason for a girl's beach getaway! Seaside and 30A are great for girl's trips!
There is fabulous shopping, posh pampering and delicious dining!
Add in a nice 5K or Half Marathon run, and you have a perfect getaway! While picking up your race packet in Seaside you can shop for some fashionable finds at tons of great spots in Seaside, like Mercantile and Déjà Vu, just to name a few. A good run can make a mess of a prefect pedicure! After the race you can pamper your piggies at Beach Ready Spa in Seaside or Angel Nails in WaterColor. If carb loading is your pre-race ritual, Café' 30A, Chan's Wine World, Great Southern, La Cocina, Southern Kitchen Café, or Pizza by the Sea are all fabulous dinner spots! Of course you will be replenishing yourself after the race with Grayton Beer and Jim 'N Nicks BBQ! All this while carrying around your hard earned highly coveted Vera Bradley tote!
Runner, Stephanie Paige Miller, ran the half marathon with two former co-workers from Self Magazine, Jaclyn Emrick and Marissa Stephenson. Jaclyn's family lives on 30A, so the girls made a weekend out of it and loved it!
Local Runner Welcomes Her Friends
Locals to 30A are a proud bunch! Getting some girls to come enjoy our town and run the Seaside School 5K and Half Marathon is a great way to show off our slice of paradise! Shannon Kramolis, a resident of WaterColor, had six girlfriends visit to run the race last year. They came down from Little Rock, Arkansas and had a blast! The friends, who are all mothers near 40 years old, stayed in Shannon's home during their visit. For some it was their first visit to the area. They enjoyed the local vibe at Red Bar and relaxed with wine at Chan's Wine World. Of course they enjoyed the white sand and emerald water 30A is famous for! The highlight of the trip was race day! All six of the ladies ran the race together and crossed the finish line as a group!
Shannon and friends on race day!
What a great bonding experience!
Arkansas ladies loading up at the expo!
13.1 miles of chit chat and laughs! To celebrate their accomplishment, they took full advantage of the after party! Staying around for the awards while enjoying Grayton Beer, Jim and Nicks BBQ and the beautiful weather! The weekend was such a success the girls are returning to run the race again in 2015! Lace up girls, only 80 days until the race!