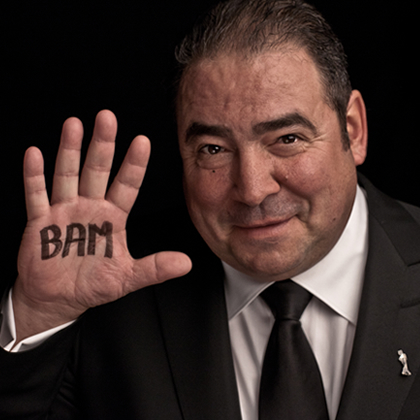 Walnut Oil or Olive Oil? Blue cheese or Gorgonzola? How did you come up with "Bam?" These are just a few examples of things I WILL NOT be asking Chef Emeril Lagasse when I have the pleasure of meeting him Friday night February 27, 2015 at the big Taste of the Race event. What my small talk will consist of, well, I don't know. But, I can say with great certainty I will not be saying things like "Chimichurri," "Banh Mi," or "Amuse-Bouche." Another thing I am most certain of is that Taste of the Race will not be your average spaghetti dinner.
Now I'm not knocking your Great Grandmother's homemade spaghetti and meatballs recipe (originating in Sicily of course), handed down from generation to generation… I am just noting that this is a different event from the typical pre-race spaghetti dinner (not that there's anything wrong with that).
Attendees will enjoy cuisine from approximately 20 of the Gulf Coast's Top Chef's. Here are a few along with my guess (read: shameless request) of what they might serve:
Emeril's-Baby Bam Burgers perhaps?
Emeril's Tchoup Chop-I'm hoping for some Dumplings.
Jim 'N Nick's BBQ-Smoked Pork and homemade Bar-B-Q Chips
The Bay-Their Edamame Hummus is a huge hit here.
Great Southern Café-Beignets! They are "poufs of goodness" and in my humble opinion can be enjoyed any time of the day.
Stinky's Fish Camp-Grilled Gulf Grouper or Fried Oysters would be amazing!
Bud & Alley's– I love love love their Sweet Potato Fries.
723 Whiskey Bravo-Double Cheese Grits, Roasted Brussell Sprouts or their amazing Key Lime Pie! How about all of the above?
Emeril's Baby Bam Burgers
Regardless of whether or not they heed my requests, there will surely be something for every palette. Drinks will be poured by Grayton Beer, Chan's Wine World, and Coca-Cola.
 On this night in February on 30-A, Seaside is where you will want to be. Whether you are involved in the annual Seaside 5K/ Half Marathon or not, this will prove to be a fantastic night for anyone. It's rare that you can find one venue filled with great food, great drinks, and live music. WPAP-FM and iHeart Radio will present American Country Music sensation, Trick Pony. Formed in 1996 by Keith Burns (lead guitar and vocals), Ira Dean
(bass guitar, upright bass, and vocals), and Heidi Newfield (lead vocals, harmonica, and acoustic guitar). They are a Billboard chart and Top 20 hit producing band, with hits like "Pour Me," "On a Night Like This," and "Just What I do." We couldn't be more excited to have them perform at our inaugural event.
Trick Pony
It all gets underway for VIP ticket holders at 5:30, and 6:00 for General Admission. Add this event to your list of "not to miss" 30A events of 2015. To purchase tickets, please visit http://www.tasteoftherace.eventbrite.com. We look forward to seeing your smiling faces there.