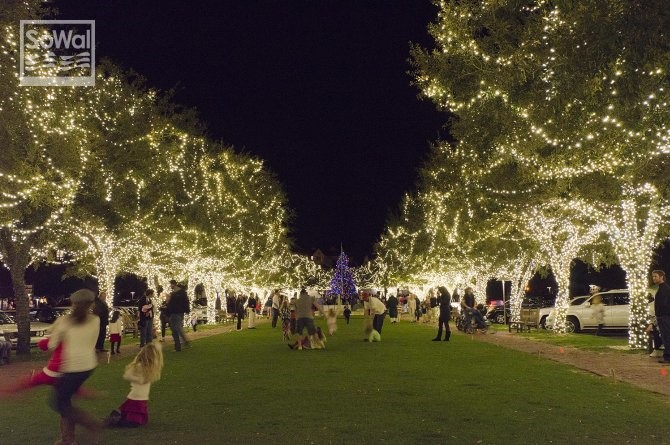 Christmas on 30A is my favorite time of year. The areas array of Christmas lights are something that my family and I look forward to every year. From the Tree lighting ceremony in Rosemary Beach, to the fully lit town centers of Seaside and Watercolor. Seems like the planned communities along 30A always have the best options for viewing Christmas Lights and holiday decorations.
As seen by the pictures below, Seaside is always on the top of the list, as it's the most convenient and has the most to offer in terms of restaurants, shopping, green space, etc. We don't miss any opportunity to go have a bite to eat and hang out with the family.
Rosemary Beach's lighting of the Christmas tree and the decorating in and around town center attracts people from all over, offering fun events for entire family. If you are visiting 30A for the holidays, Rosemary Beach is surely a place you want to check out!
December Events on 30-A

There is no shortage of activities to engage in while visiting Seaside, Rosemary Beach, Alys Beach, WaterColor or any of the beach villages along Scenic Highway 30-A. After you check out all the Christmas Lights along 30A, here are a few other events that you won't want to miss in December:
Holiday Paper Lantern Parade at Baytowne Wharf – Saturday, December 20th
This event will feature commissioned paper lanterns in the shapes of iconic symbols of the holiday season. Groups can participate by making their own paper lanterns. Following the 12 Nights of Lights light show, enjoy a showing of holiday movie classic, ELF under the stars at 7:15pm.   Bring your blankets and chairs for an evening of fun for the entire family! Admission is Free and everyone is welcome!
Pensacola Symphony Orchestra Performing at Seaside – Saturday, December 20th
As a local, we rarely miss opportunities to spend time as a family. Attending concerts like the Pensacola Symphony Orchestra performing under the stars is sure to make happy memories for everyone. Bring your lawn chairs and blankets and allow the sounds of the season to remind you of all the magic of the holidays.
Sunday, December 21st – Winter Solstice Run
The Winter Solstice Run is an all-day ultra-run, starting at sunrise, continuing 40 miles along the beaches, around the many lakes of South Walton, and through Florida state forests until sunset. This is all about fun, adventure and camaraderie – it's not a race! It also has transpired to training for Run Across Ethiopia and Run Across Palestine participants. The annual runs have occurred during both the summer and winter solstices, ranging from 30-40 miles during the shortest days and shortest nights of the year. For some this will be the first of their Solstice Runs, for others it may be their 6th! This will be one of the most amazing life experiences you have. Join us, and together we will make a difference for women in the DR Congo! There are only 100 spots this year so don't wait to sign-up!
Monday, December 29th – Holiday Movie at the Fonville Press in Alys Beach
A family favorite of ours, the Fonville Press is showing holiday movie classic, ELF, on December 29th at 5:15pm. Bring blankets and low back chairs for a fun family evening set to the backdrop of the comedy starring Will Farrell. Fonville Press will offer hot drinks and snacks.
Monday, December 31th – New Year's Eve Celebration at Seaside
Experience a spectacular, family friendly party including live entertainment from the Dirty Guv'nahs and MamaDear, along with kid's art projects, street performers and a memorable fireworks finale at midnight.
So, whatever activities and events that you and your family choose to attend along 30-A during the holidays, you will not be disappointed with your choices. And go check out all the Christmas lights on 30A and you decide who get title of "The Best lights on 30A."
You can check out a detailed list of events along the beaches of 30-A by going to www.30a.com/events or www.sowal.com/events