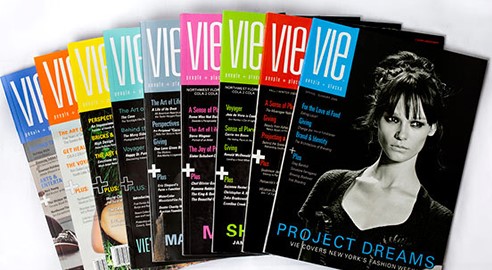 The Seaside School Half Marathon & 5K Run is the pinnacle community charity event in South Walton. Everyone in the community comes together on March 1st to support one of Florida's first charter schools in a fun and dynamic way. The list of sponsors involved is a who's who of compassionate businesses. One such business is celebrating 20 years of being a staple in the community and instead of throwing a big party to celebrate – they are celebrating by showing their gratitude to their community in an impactful way.
The Idea Boutique
The Idea Boutique Staff – Holiday Party at Roux 30a, 2013 | Photo by Dawn C. Whitty
Cornerstone Marketing & Advertising, Inc is best known throughout Northwest Florida as The Idea Boutique.   Headquartered just up the road from Seaside in Grayton Beach, this company is a leading marketing, advertising, and publishing firm. Founding husband and wife duo Gerald and Lisa Burwell are critical South Walton pillars. Reflecting on the longevity of their "boutique" business Lisa Burwell states "Building a business over two decades takes a lot of perseverance and hard work, but it also takes people who believe in you." Continuing her reflection on the value of our community, "Without the support of our local community, we would not have been able to arrive at the 20-year mark, and we are forever grateful. Some companies have big parties to celebrate a landmark like this, but we decided to enact what we've dubbed the Give Back Initiative. We've poured support into other businesses (and organizations) as a way to show our gratitude."
The Giveback Initiative
Through their star publication, VIE magazine, Cornerstone has collectively contributed over $40,000 in the past year in donations and sponsorships to area businesses, nonprofits, and events. Of course they are a Diamond Sponsor of the Seaside School Half Marathon & 5K, but in addition to supporting our worthy cause they are also involved in countless others. Enhancing their financial contributions, they've utilized VIE magazine to garner attention for issues and organizations who have greatly benefited from it. One of the most notable may be the distribution of their first Animal Issue, which included a featured article spotlighting Alaqua Animal Refuge and founder Laurie Hood.
Getting Involved
Ready to join The Idea Botique and others by supporting your community at the Seaside School Half Marathon & 5K? Well unfortunately (or fortunately depending on how you look at it) the race is completely sold out. Luckily there are several other equally rewarding ways to participate. One of the most tantalizing is a first for this year and has been dubbed Taste of the Race. A precursor to the race, this culinary extravaganza will be held on Friday, February 27th at the Seaside Neighborhood School Lyceum. Along with Special Guest Chef Emeril Lagasse, twenty of the Gulf Coast's top Chefs will be crafting a menu that you will absolutely not wan't to miss. Sure to sell out soon you can purchase your tickets now. General admission is $99 a person and there's even an option to join in on a VIP Reception with celebrity Chef Emeril Lagasse for only $250 per person. In addition to an opportunity to indulge on fine food you can also get involved for free as a volunteer. If you'd like to lend a hand send a message to us at info@snsrun.com. We are thankful for our sponsors, our community, and everyone who comes together to make this event so amazing. See you all on race day!