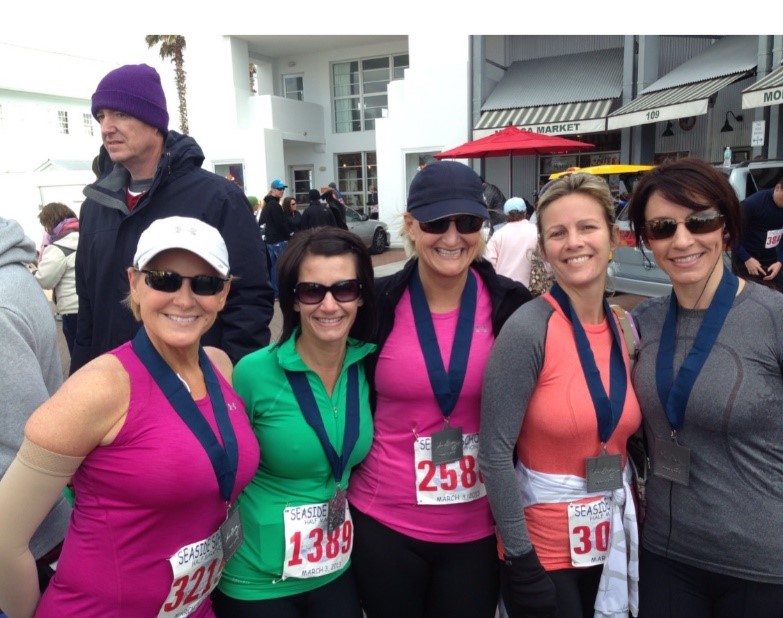 Finishing a race can be an emotional moment. As if running down 30A and enjoying the post party in Seaside, FL was not enough, these people added some emotion to the excitement.
Friendly Spousal Competition

Britt and Jackie Ward of Santa Rosa Beach, FL had lost time for their fitness.  As working parents of 3, they had let their fitness take a back burner. To motivate each other, they set a wager. Whoever crossed the finish line of the Seaside School Half Marathon first would buy the other a stand up paddle board, a sport popular on the Emerald Coast. It was game on! This would be the first half marathon for the couple. Both Jackie and Britt began to vigorously train for the 13.1 mile race. Britt would sneak out for early morning runs and trips to the gym while Jackie ran with friends 6 days a week. After months of training, it was race day! A friendly kiss at the starting line and then the competition began. Jackie had a steady pace and Britt pulled out in front of her. Just before the turn near Gulf Place Jackie passed Britt. She continued on and finished before her husband. Jackie is now the proud owner of a stand up paddle board and they both are enjoying the benefits of a healthy lifestyle.
Forty Never Felt So Good
Jennifer Martin of Grayton Beach, FL was looking forward to her fortieth birthday. The Seaside School Half Marathon was on her actual birthday in 2012. She had run several half marathons in the past, but this one would be special. Having recently moved to the Emerald Coast from Tennessee, Jennifer was delighted that several of her friends were going to make the trip down and celebrate her birthday by running the race with her.
Four of Jennifer's girlfriends as well as her sister ran all 13.1 miles together. The group started and finished the race as a unit in honor of Jennifer's big day. Near miles 3 and 10, her husband, 3 children and several friends had music blaring and were shouting as the group passed.
The birthday celebration continued at the post race party where the girls enjoyed a beer and the live music. Jennifer said,
"I couldn't think of a better way to spend a milestone birthday! Surrounded by loved ones while doing something active in support of my community!"
Jennifer's family and friends convened on the beach for a sunset bonfire soiree! A flawless fortieth… wonder what she has in store for 50? Will it be another 13.1 miles of splendor along the Emerald Coast and celebrating in Seaside?