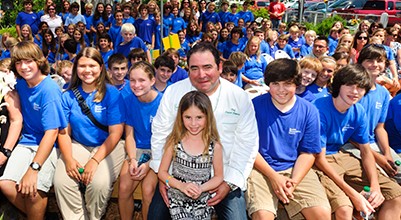 What's the most integral piece of a truly great recipe? Everyone knows it's the ingredients!  If done right, ingredients come together to create greatness.  The key ingredient of the Seaside School Half Marathon & 5K Run is the community.  Active community members and caring businesses come together every year for a very worthy cause.  Our race has grown to become the most renowned charitable event in Northwest Florida.  Everyone enjoys the race, but it's clearly our "key ingredient" that is the most pertinent.
The most qualified Chef in our kitchen is no stranger to creating a great recipe.  Emeril Lagasse has quickly become the ambassador of fine food for our region and the entire state of Florida.  A juggernaut in the culinary business world, Emeril is a wildly successful restaurateur with 12 delectable eateries that are well placed across the country.  His legendary recipes are highlighted in 15 best-selling cookbooks. You can even follow along as he personally prepares tantalizing dishes on multiple specials and shows that are found on the Cooking Channel and Food Network. In our bias opinion, his most entertaining (and mouth-watering) show is Emeril's Florida.
Emeril's Florida
Filmed on-location, Emeril eagerly travels throughout Florida and visits the state's top restaurants and destinations.  His adventures include the exploration of fine food, cooking, fishing, agriculture, world-class events, and culinary based festivals.   Lucky viewers even get to see him craft recipes of his own in unique locales.  Now in its third season, Emeril's Florida has covered many of the very best places to eat in the Sunshine State.  Fortunately for us, several of his (and our) favorite places to dine are here in South Walton.  Earlier this year the show highlighted Seagar's Prime Steaks & Seafood, Crust Artisan Bakery, the Seaside Airstream Food Trucks, and our neighbor, V Seagrove.   In season we were ecstatic to view dishes prepared at Fish Out of Water and our favorite beachfront hangout, Bud & Alleys.
Photo courtesy of boudinbourbonandbeer.com
Emeril Lagasse Foundation
Generous by nature, in addition to supporting the Seaside School Foundation through our event, he's also established a New Orleans based foundation that has distributed more than $5.5 million in grants for children's charities.  Founded with his wife Alden (who's also a valued board member of our school & student mentor) the Emeril Lagasse Foundation hosts two extraordinary fundraisers each year, Carnivale du Vin and Boudin, Bourbon, & Beer.   These events along with charitable contributions and corporate partners have created much needed opportunities for disadvantaged children to realize their full potential as productive and creative individuals.
Photo courtesy of emerilsrestaurants.com
Taste of the Race
If you want to join your community and favorite Celebrity Chef (in person) in supporting our school you are in luck!  This year a preceding event will be held at the Seaside Lyceum the Friday before the race.  Fortunate ticket holders will be treated to delightful cuisine from around 20 of the Gulf Coast's Top Chefs and Restaurants.   Loved menu items will be expertly prepared and include dishes from 723 Whiskey Bravo, Stinky's Fish Camp, Great Southern Café, Jim 'N Nicks BBQ, and Bud & Alley's.  The line up will also include dishes from two of Mr. Lagasse's personal restaurants, Emeril's and Emeril's Tchoup Chop.  Tickets are still available and are offered at only $99.
Meet Emeril Lagasse
In addition to the aforementioned general admission package, Taste of the Race will also feature a VIP Reception hosted by Chef Emeril Lagasse himself! Already widely regarded as THE 30A event of 2015, a handful of VIPs will enjoy Hors d'oeuvres and beverages with Emeril in an intimate setting. They will also receive a special gift and have a photo opportunity.  A handful of tickets are still available and they are offered at $250.  Now is the time to purchase tickets and you can do so here.
This year the Seaside School Half Marathon & 5K Run will definitely be "Kicked up a notch" and we hope to see you there!