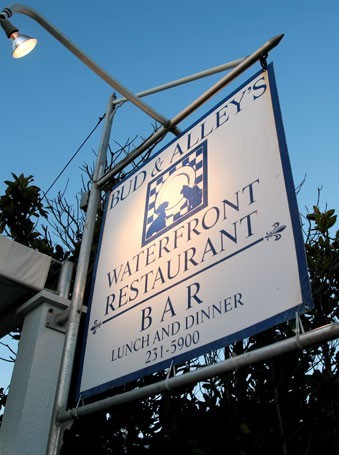 The Bud & Alley's Waterfront Restaurant sign is synonymous with Seaside food, fun, and beautiful beach views.  If you have ever visited South Walton and 30A, you have surely dined at Bud & Alley's. It is South Walton's oldest restaurant and a favorite of locals and tourists alike.  Bud & Alley's truly is a Seaside institution, having been around for over 24 years.  Back then Seaside had only 12 houses and was pretty much in the middle of nowhere.  Founded by surfing buddies Scott Witcoski and Dave Rauschkolb, the restaurant was named after town founder Robert Davis' dachshund Bud, and Scott's cat Alley. They had a goal to open a place that was an unpretentious eatery with great good.
Witcoski eventually decided to pursue other interests, and sold his portion to Rauschkolb who would then take over this famous eatery. Eventually branching out in 2007, Dave expanded and opened two additional joints, Taco Bar and Pizza Bar, both opening to rave reviews.
We are thrilled that Bud & Alley's will be participating in Taste of the Race 2015. A few items you can find on their amazing menu, include:
Gulf Shrimp
Baked Oysters "Seaside"
Smoked Pimento Cheese with Fried Horseradish Pickles
Chickpea hummus
Killer Sweet Potato Fries
Fried Green Tomato, Crawfish Tails, Bacon Remoulade
Local Arugula Salad
Bud & Alley's Crab Cakes
Grilled Red Snapper
Smoked Pork Chop
Grilled Beef Medallions
And countless yummy sides!
The menu is extensive and there's always something for everyone. We don't know yet what they have in store for ticket holders at Taste of the Race, but we do know it will not disappoint.  Bud & Alley's is a beloved institution and more than just a bar or restaurant, so we can't imagine not having their presence at our inaugural event. Thank you Dave and your talented team for your participation and support.
To purchase tickets to "Taste of the Race," and have the opportunity to meet Emeril Lagasse, please visit http://www.tasteoftherace.eventbrite.com.  This event will sell out, so plan ahead and purchase tickets today.