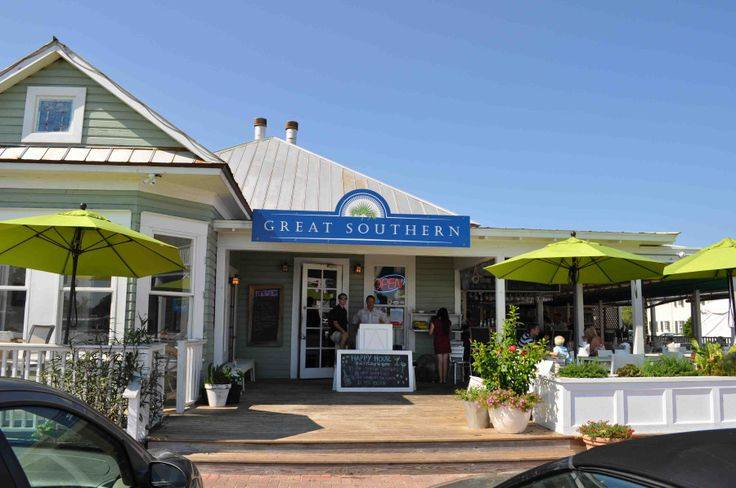 Accurately named, Great Southern Café is just that-Great! Smack dab in the center of Seaside , Chef Jim Shirley's Great Southern Café is a crowd favorite in these parts. If you are passionate about the food you buy, cook, and eat, Chef Shirley's story will resonate. He believes that our story can be told by the food we cook and eat, and Great Southern Café tells his story.  The son of a Navy pilot stationed all over the world, Chef Shirley was reared on a variety of foods from many cultures.  He loves to serve up a brilliant hybrid of Southern cooking and International cuisine, all while utilizing local fresh produce and seafood.  Serving up Breakfast, Lunch, and Dinner, Great Southern Café is ready to serve up all things yummy, all day long.
Menu items include: (Breakfast, Lunch, Dinner)
A wide variety of Great Southern Benedicts, including Café Benedict and Fried Green Tomato Benedict
Grits A Ya Ya which is blackened shrimp, sauté of bacon, spinach, Portobello mushrooms, and cream on a bed of Gouda cheese grits…Gouda I tell you…but wait for it…topped with sweet potato hay! Uh, Ya Ya…I'll take it!
Beignets-need I say more?
Bloody Mary or Mimosa
Crab Cakes & Fried Green Tomatoes
Blue Crab Claws with garlic, cream, sherry & lemon butter sauce with warm bread for dipping
Pimento Cheese
Black-Eyed Pea Hummus
Balsamic Salmon, which I love over a salad
"Best Burger" which is made with their hormone and antibiotic free grass fed beef, with amazing topper choices like Gouda and/or applewood-smoked bacon
Pensacola Pulled Pork which is slow-cooked pork in Korean barbecue
Mojitos, Beers on Draft, Bottled beer, and killer desserts.
Not only is he an amazing chef and restaurateur, Chef Shirley is an active community leader.  His ability to constantly please our palate is only a part of his story. He dedicates a ton of his time to various charities and boards and is clearly passionate about giving back and serving organizations that help children.  I'd say he's a good egg indeed. Ok Ok…I couldn't help myself. Writing this has clearly made me hungry. I'm but a mere bike ride away from Great Southern Café and think I'll head there now! We are thrilled Chef Shirley and his team will be at Taste of the Race, and can only hope we get some of his famous Grits A Ya Ya!
If you are visiting or a local and looking for 30A events in February, this is an event you don't want to miss! To purchase tickets to "Taste of the Race," and have the opportunity to meet Emeril Lagasse, please visit http://www.tasteoftherace.eventbrite.com.  This event will sell out, so plan ahead and purchase tickets today.