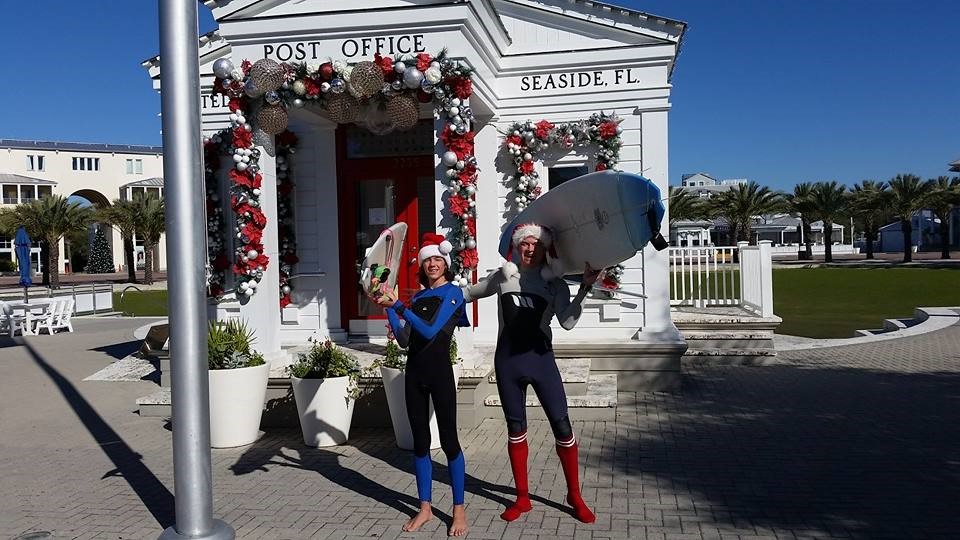 What to do in the winter at the beach when it's cold!
The beaches of South Walton can be chilly in the winter time.  The sun may still shine and people are still out and about, but what can you do in the water if it's 50 degrees outside?  Well, according to many locals, a lot!  The winter surfing season is in full effect on 30A.
The Gulf of Mexico is not known for its rolling waves and consistent surf conditions, but many of the locals will take advantage of every opportunity to hit the water when there is decent surf.  It just so happens that the surf is the best in the winter time. 
I sat down with Ty Sims, a 20 year local resident of 30A, and Co-Chair of the Eastern Surf Association-  Northern Gulf Coast Chapter.  Ty's view of the winter time is completely different than most:
"The winter time on 30A is the best for surfing!  We don't get a lot of decent wave activity along our coastline, and it's usually when the weather is horrible, heavy winds, cloudy skies, cold, etc.  My son Thomas and I are always out in the surf during the winter time, and we have some of our best surfing events for the ESA as well.  It's also a great opportunity to spend quality time with my son."
The ESA NGFL (Eastern Surfing Association – Northern Gulf Coast) is based here on 30A and has many locals as members.  Competitions are held every time there is decent surf, even during the winter time.  The new season for the association just started, and all are welcome to attend the events and compete. The annual banquet will be held on February 21, 2015 to recognize 2014 competition winners.
It's a great time to spend with family and friends and have some healthy competition!  If you want to know what to do at the beach when it's cold?  Grab a wet suit and a surfboard, head to beaches of 30A and hit the water! 

Check out the ESA-NGFL website and Facebook page to learn about upcoming events and how you can join a great family organization.
http://ngfl.surfesa.org/about-us/