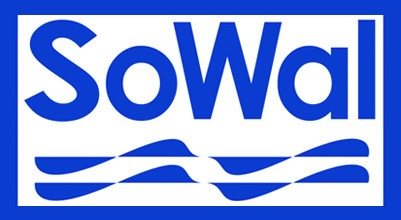 As one of the first charter schools in Florida, the Seaside Neighborhood School was founded with the goal to help students excel both academically and socially. With the help of dedicated staff, involved parents, and the support of local businesses and the community, Seaside Neighborhood School has become one of the top performing schools in the state and is consistently recognized on national and state levels for its academic achievements.
The Seaside School Half Marathon & 5K is THE premier charitable event in South Walton and the proceeds go directly to the Seaside Schools allowing students expanded opportunities to further enhance their education.  This annual race brings the community and valued local businesses together for a very worthy cause.  One such business and an integral organization in our community is SoWal.
Image courtesy of Sowal.com
Since 2004 SoWal.com has been the online ambassador of our area.   They've been wildly successful in fostering a real sense of community along the coast of South Walton.  Their destination guide website is an indispensable resource for visitors and locals alike.  Producing unparalleled digital content, SoWal hosts insider info, local news, regional events, and area activities.  Paired with their dynamic articles are some of the most stunning photographs of our small slice of paradise.
Equally entertaining as their well crafted featured stories and articles, the SoWal Forum allows the community to organize and discuss a range of topics including future development and area conservation efforts (and anything else you can dream up).  Their forum has connected like-minded individuals and allowed opposing views of hot button issues to be openly debated.  This avenue for collaboration has created many impactful relationships and has given everyone an opportunity to be heard.
Being our valued sponsor SoWal specializes in getting the word out, it's easy to see why our race of 4,000 runners is already sold out.  Not to worry, if you want to join in on the fun there are still several opportunities available.
On Friday, February 27th from 6-8PM the inaugural Taste of the Race will kick off the big weekend. Ticket holders will be afforded an opportunity to rub elbows with Chef Emeril Lagasse, savor cuisine from about 20 of the Gulf Coast's Top Chefs, Grayton Beer, WineWorld, and Coca Cola, as well as listen to live music sensation Trick Pony. You can learn more and purchase tickets here.
On Saturday, February 28th from 12-6 PM the Seaside School Half Marathon & 5K Race Expo will be hosted at the Seaside Lyceum.  Vendors will offer a variety of equipment, apparel, footwear, and accessories for sale at great prices.  Pick up race packets and enjoy live music from Geoff McBride. The Expo is FREE and open to all ages.
On Sunday, March 1st the Seaside Half Marathon & 5K will be held.  Even though there is no longer an opportunity to run in the race, everyone is invited to come out to cheer for participants and join in the after race celebration.