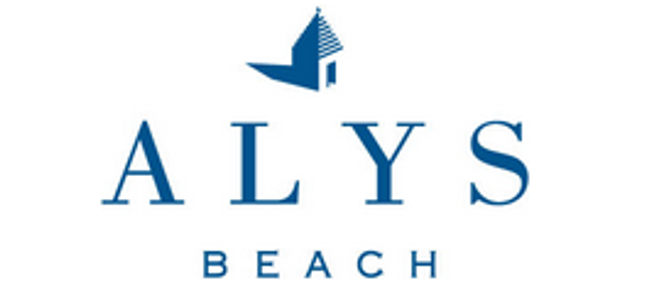 If you've ever been down the east end of 30A, you've driven past the white houses, most likely in awe of the architecture. If you've attended the annual Digital Graffiti event, you probably felt as if you stepped into the Twilight Zone (in a good way). If you've eaten at George's or taken a sip of a cocktail at the Caliza Pool, you feel like you're on the vacation of your life.  If you're lucky enough to live anywhere near or vacation in Alys Beach, you must be living the dream.  
As the annual Seaside School Half Marathon and 5K Run nears, the sponsors play an important role in the pre and post race events as well as the day of events.  The Seaside School Foundation is super-excited to have Alys Beach Foundation as one of its Diamond Sponsors.
One cannot put into words what the town of Alys Beach represents, however, a few words from their website describes the town, its architecture and the people perfectly:  "In Alys Beach escaping is an art form and enjoying the relaxed coastal lifestyle is a way of life. Within the beauty and serenity of Alys Beach, there are many options to play, relax, reconnect, dine, and embrace a healthy, active lifestyle… No matter what the event, it's sure to be a spectacular celebration of life's simple pleasures."
Alys Beach is a great place to train for a half-marathon or 5k.  Not only does Alys Beach have plenty of sidewalk space to run, walk, bike or roller blade (by yourself, with your dog or your children), but there are miles of beach and nature trails as well.  For the fitness buff, you can train in the pool, fitness center or tennis courts.  You can even visit the bike shop and pick out a bike to tool around town.  Want to try out a new sport? You can rent a paddleboard or surf board at a nearby rental shop and try a yoga paddleboard lesson or take surf lessons.  Need to stretch, work on your abs, legs and arm muscles… you can work-out in the park while your kids play.  Maybe you need a few new shirts before you start training, or just need a souvenir? Check out the Alys Beach store.
After the race, stay a few extra days in one of Alys Beach's beautiful vacation homes (or heck, purchase one that is for sale), and enjoy the wonderful restaurants located at Alys Beach – Fonville Press, Caliza Pool and George's or the ever popular morning stop, Charlie's Donuts.
Stay in the know of what's going on in and around Alys Beach by visiting www.alysbeach.com. Capture and share your Alys Beach moments on Instagram using the hashtag #alysbeach and #seasidefl5k. We Love Our Sponsors! #runseasidefl #seasideflmarathon #emeraldcoastkids ©#alysbeach #seasidefl5k.  The Seaside Schools and the Seaside School Foundation thank Alys Beach Foundation and looks forward to seeing everyone at the race!  You can also keep up to date on kid-friendly tips and family events on the Emerald Coast by signing up for the newsletter at www.emeraldcoastkids.org or by following @emeraldcoastkids on Facebook. See you at the race!