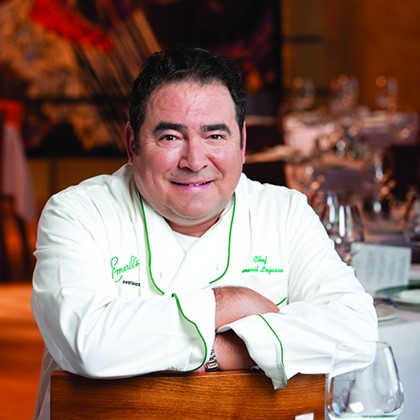 A nod to New Orleans' Tschoupitoulas Street, "tchoup" coupled with a culinary term, "chop," is how this second Universal Orlando eatery by Emeril Lagasse, got its name.  Emeril's Tchoup Chop takes your palate on a trip through the Pacific Seas.  We are thrilled that Emeril's Tchoup Chop will be cooking for us February 27, 2015 at Taste of the Race.  A few items you will find on this amazing menu include:
Crispy Kalua Chicken Egg Rolls with an Orange-Chili Dipping Sauce
Ahi Poke Rice Bowl with raw Ahi, sushi rice, avacado, cucumber with a sweet soy glaze and a spicy mayo
Tchoup Chop Chicken Salad with grilled chicken, romaine, onions, carrots, water chestnuts, green onions, napa slaw, tomatoes, macadamia nuts, cucumber, cilantro, wonton crisps, and a mandarin orange-sesame soy vinaigrette
Da Tchoup Burger-(this would be Da favorite in my house) Burger with a fried egg, cheddar cheese, tomatoes, onions, pickles, Asian Chimichurri with a Kabayaki Glaze and Kim Chee Aioli
Bag of Mussels with cilantro, thai basil, kaffir lime, ginger, tomatoes and white wine
Soft Tacos with Flour tortillas, lomi lomi tomatoes, guacamole, pinapple napa slaw, and a sweet soy-kim chee mayo with BBQ Skirt steak, Kalua Pork, or Mahi Mahi
Well, I officially declare my kale diet off on February 27, 2015.   In fact, after just writing about it, I am craving such deliciousness right now!! I don't know what the Chef Lagasse and his talented staff at Tchoup Chop plan on serving at Taste of the Race, but I know it will undoubtedly be great! I can only hope that they will consider opening a beach location here in the Florida Panhandle.  Hey…dare to dream, dare to dream.
The whole team at the Seaside School Half Marathon & 5K Run is so honored to have the support of  Emeril Lagasse, his family, and his team.   Chef Lagasse is hosting our inaugural Taste of the Race 2015. I found it worth mentioning in case you like to hob nob with culinary geniuses, eat amazing food, listen to live music, and drink a fab glass of wine or cold beer.  Who doesn't?? We hope to see your smiling (and hungry) faces there.