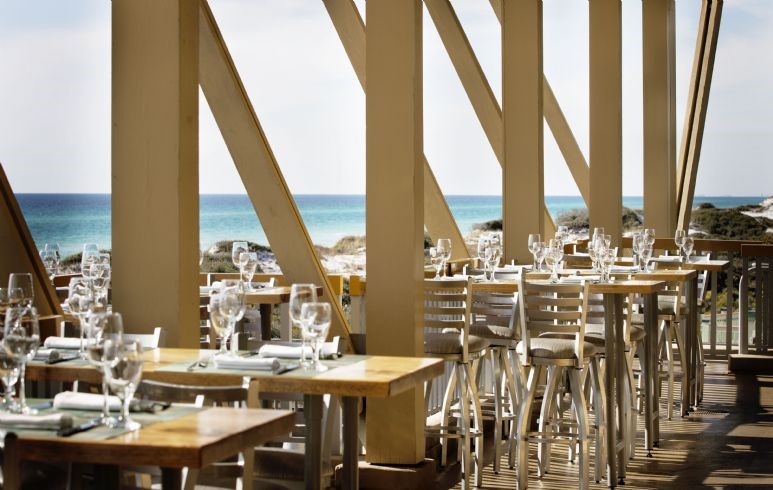 Fish Out of Water is found inside the Watercolor Inn, on the beach side overlooking the Gulf of Mexico.  It will be hard to find someone who hasn't grabbed a drink at the bar, dined for dinner, or gathered for brunch at this very popular Watercolor restaurant. It has a very loyal following in both locals and tourists alike.  My husband and I got engaged here at Watercolor and during that visit, we dined at Fish Out of Water.  Let me be honest, any place that serves Veuve Clicquot by the glass is my kind of place!  Don't pity him…he knew exactly what he was signing up for! The Watercolor Inn and Fish Out of water both hold a special place in my heart as it really marked the beginning of our journey together.
This is a great place for any occasion really, from reserving the private dining room for a large group looking for privacy, to special events like a rehearsal dinner. This place will not disappoint you. You can't beat the location, the food is phenomenal, and the wine list distinctive.
A few favorites on the menu include:
Braised Pork Belly
Mini Crabcake Trio
Local Arugala Salad
Tuna Poke
Roasted Black Grouper
Shrimp and Scallop Paella
Pork Osso Bucco
For dessert, the Nightly Souffle, which for me mustn't become a nightly indulgence
They are also famous for having one of the best brunch menus on 30A.  A few items you will find on that menu include:
Huevos Rancheros
Bourbon Vanilla French Toast
Panhandle Shrimp and Grits
Watercolor Southern Breakfast
Bloody Mary, Mimosa, and morning Margarita are just a few brunch beverage options
We know ticket holders will be anxious to see what the talented team at Fish Out of Water will be serving up at Taste of the Race 2015.  Breakfast for dinner perhaps?  Got tickets?
If you are visiting or a local and looking for 30A events in February, this is an event you don't want to miss! To purchase tickets to "Taste of the Race," and have the opportunity to meet Emeril Lagasse, enjoy music by Trick Pony, and indulge in the best food around, please visit http://www.tasteoftherace.eventbrite.com.  This event will sell out, so plan ahead and purchase tickets today.