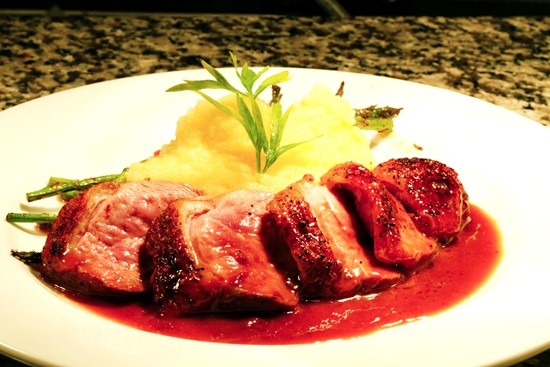 If you are a local, you know the name Tim Creehan, Chef Tim Creehan that is. Cuvee Bistro of Destin is one of the first places I ever dined when I was just a first time tourist, prior to moving here from Texas.  I immediately loved the place and hadn't yet even put a bite of food in my mouth. The restaurant is lively and if you like to people watch, and who doesn't, happy hour at Cuvee Bistro, won't let you down.  Fast forward many years, the restaurant is still a favorite of locals and visitors. A few items you will find at a great happy hour price include:
Cuvee spicy garlic French fries
Spring rolls with a yummy soy thai dipping sauce
Their famous crispy flat bread pizzas in a variety of flavors
Beef sliders
If you love the food but want a dinner that allows for more conversation and privacy, the restaurant has several private dining rooms that can accommodate up to 50 seated guests.  A few favorites you can find on the dinner menu include:
Chilean Sea Bass
Braised Pork Belly with an Asian Sherry Glaze and green apple Slaw (appetizer)
Grouper Vince that is pecan crusted
Pan Seared Maple Leaf Farms Duck Breast
Colorado Rack of Lamb
A plethora of sides like sautéed garlic spinach, white cheese grits, and my personal favorite, pommes frites with housemade ketchup
Cuvee Bistro has won much recognition. OpenTable named it Diners' Choice Winner in 2013, Wine Spectator Award of Excellence in 2014, and The Golden Spoon Award from Florida Trend in 2014. We are so happy to announce that Cuvee Bistro will be participating in Taste of the Race, February 27, 2015. As an avid runner and Seaside School Half Marathon Run 4th year participant, Taste of the Race is going to be the perfect amount of "carb" loading and relaxation I need two nights before Sunday morning arrives. I can't wait! Whether you are a fellow runner, a fellow local, or a vacationer looking for something fun to do on Friday night, this event is for everyone. I hope to see all of your smiling faces there.
If you are visiting or a local and looking for 30A events in February, this is an event you don't want to miss! To purchase tickets to "Taste of the Race," and have the opportunity to meet Emeril Lagasse, please visit http://www.tasteoftherace.eventbrite.com.  This event will sell out, so plan ahead and purchase tickets today.