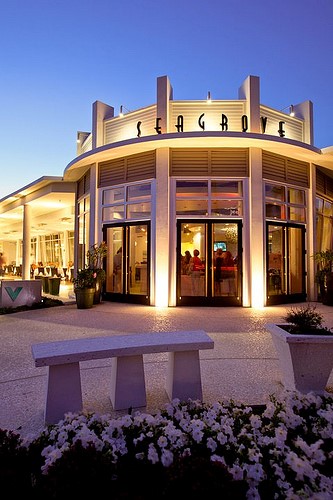 V Seagrove is located on the corner of 30A and 395. It's close to where Seagrove becomes Seaside, and a hub of all things exciting and tasty!  Now, yes, this is a restaurant, but on any given day, you might see a bride and groom here, or 10-15 bikini models strutting their stuff. From the day it opened, V Seagrove has been not only a great place to eat, grab a drink after work, see and be seen, but also an ideal spot for events.
(Ophelia Swimwear at V Seagrove, Model Shawn Chick)
Now that I have your attention, it is with great pleasure to announce that the talented team at V Seagrove, lead by Chef David Cunningham, will be putting some mouth watering concoctions on the menu this year for Taste of the Race.  I don't know what they have planned, but might I take this opportunity to highlight a few of my personal favorites off their menu:
Curry Churri Roysted Oysters
Ahi Tuna Tacos from their Lil Bites menu
Chef David's Creole Gumbo
Basil Coconut Steamed Mussels
Shrimp & Grits Seaside
Marinated Char-grilled Steak
Hand Cut Parmesan crusted French fries
French Market Style Beignets
Brownie Bread Pudding…yes, brownie merged with bread pudding…with cream cheese ice cream and a cinnamon white chocolate whiskey sauce
I bet the above mentioned models have never tried the Brownie Bread Pudding…just a hunch. I feel sad for them.  Yep…sad for them.  Ok, I am not so much sad for them as I am wishing I could look like that while living off Brownie Bread Pudding, but that's a whole other blog.
V Seagrove is open for happy hour and dinner at 5pm, and if you have never experienced an evening at the Chef's Bar, make reservations and prepare for a delicious and memorable night.  I myself am excited to see what they will be serving up February 27, 2015 at Taste of the Race. I look forward to seeing your smiling faces there!
If you are visiting or a local and looking for 30A events in February, this is an event you don't want to miss! To purchase tickets to "Taste of the Race," and have the opportunity to meet Emeril Lagasse, please visit http://www.tasteoftherace.eventbrite.com.  This event will sell out, so plan ahead and purchase tickets today.