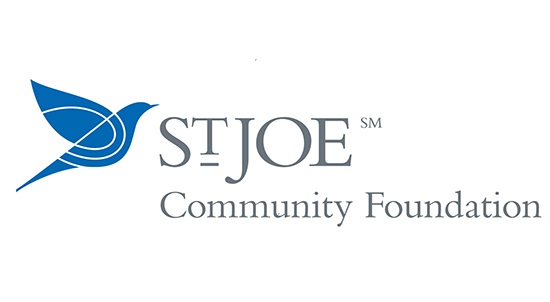 Our two big events, the Seaside School Half Marathon & 5K and Taste of Race will be here before you know it!  Leading up to race weekend, which kicks off February 27th, we are taking time here on our blog to give thanks to our valuable sponsors.
One such sponsor and a company with strong ties to our region for over 85 years is St Joe via their St Joe Community Foundation.   This 501(c)3 private foundation was created in 1999 and is solely dedicated to the ongoing improvement of the quality of life for the people who live, work, and play in Northwest Florida.   The St Joe Company funds the foundation with revenue from real estate sales from their regional developments, which include some of our neighbors such as WaterColor and WaterSound.  The St Joe Company generously provides one-half of one percent of the initial sales price and requires new buyers of resold properties to contribute the same.
The St Joe Community Foundation uses the aforementioned proceeds to supply funds to nonprofits in Walton and Bay County via charitable grants.  Their highly appreciated contributions generally range from $1,000 to $50,000 and are awarded to projects that promise long-term result of increased local quality of life.  Typically these include organizations that tackle great challenges and offer sustainable impact such as schools, hospitals, conservation efforts, and cultural experiences.
Although all their involvement is all outrageously valuable, some of their grants have truly benefited the youth of Walton County.  Grants awarded in Walton County provide funding to enhance the Walton County Education Foundation Take Stock in Children program, as well as grants to Emerald Coast Science Center for Action Packed Science classes to West DeFuniak Elementary, and funding to Walton Middle, Seaside School Foundation and Emerald Coast Middle School for robotics software programs and books.
Two other areas the St Joe Foundation is passionate about are healthcare and cultural arts. St Joe is proud that backing was delivered to Children's Volunteer Health Network for free medical and dental services to students unable to afford care. The Foundation is also honored to assist Cultural Art organizations such as Sinfonia Gulf Coast with the Carnegie Hall Linkup Program to bring fun to Walton County students as well as musicians to area hospitals and schools this year.
Originations such as the St Joe Community Foundation have truly enhanced our community and of course are doing so again via our events.  Unfortunate for some but very fortunate for us, the Seaside School Half Marathon & 5K is completely sold out.  Not to worry, this year we have our inaugural Taste of the Race and it is shaping up to be extraordinary! A stand-alone event of it's own, this extravaganza will occur within heated tents at the Seaside Lyceum on February 27th from 6-8 PM.  Here lucky attendees will enjoy fine cuisine from nearly 20 of the Gulf Coast's top chefs and restaurants.  As if that wasn't enough, the Taste of the Race is hosted by Chef Emeril Lagasse himself!  And if that wasn't enough, there will be live music with Trick Pony. Everyone in attendance is sure to leave with culinary memories of a lifetime.  Tickets are selling fast, so get them while you still can.  Please visit http://www.tasteoftherace.eventbrite.com.