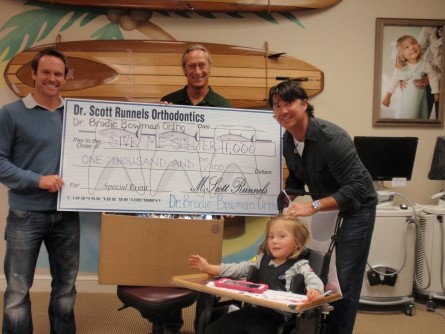 It is with great pleasure that today I dedicate the blog to Dr. Scott Runnels, his incredible team, and the amazing work being done at Lilybell Hope.  They are once again a sponsor and huge supporter of The Seaside School Half Marathon & 5K Run. My son goes to Dr. Runnels and from the first visit, we realized we weren't going to just your average Orthodontist. From the surfer cool décor, to the highly organized and kind staff, this entire team is impressive and knowledgeable beyond measure.  Dr. Runnels went to FSU for undergrad and then to Alabama School of Dentistry to get his doctorate in dental medicine. He started his own private practice in Destin in 1999. You can find offices in Destin or Panama City Beach.   And I feel it's very important to mention that the platter of cookies in the lobby make Dr. Runnels and staff very popular with the siblings in tow.  Several services include, but aren't limited to:
Invisalign for Adults

Invisalign for Teens

Braces

Retainers

Orthodontics
In his personal time, he enjoys surfing, fishing, golfing, and of course spending time with his gorgeous wife and beautiful daughter Lily. Dr. Runnels is an active member of our community and always looking for opportunities to give back. He and his wife Allyson started LilyBellHope which is a foundation to assist families in need who want to preserve the umbilical cord blood stem cells from their child at birth. This is a decision that must be made right away, and can be costly. They believe however, passionately, that it can be even more costly not to preserve the cord, in the event that these cells are needed. It's the best kind of insurance.  
I remember when we had our two boys, and each time we were faced with this decision.  We felt that we couldn't find a lot of information on the subject and were very much conflicted. Lilybell Hope Foundation helps to get out the message, increase awareness, and educate people on the benefits and the process involved in preserving these stem cells. For example, I didn't know that 80 diseases and disorders are treated through the use of these cells.
If you are looking for an Orthodontist (adults and children see Dr. Runnels by the way), or looking for a great foundation to support, check out Runnelsortho.com and lilybellhope.com.  All of us at the Seaside School Half Marathon & 5K Run are thrilled to have such amazing and quality sponsors like that of Dr. Runnels and Family, on our team.
AUTHOR: Laura Porter