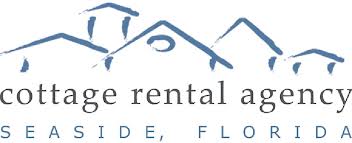 Runners are flocking from around the world to participate in the Seaside School Half Marathon & 5K.  Chances are if you are traveling to our special piece of paradise for this event you are excited to spend a little time by the beach and in our town.  Lucky for you (and for us) one of our sponsors is the authority for vacation rentals in Seaside.  Of course we are talking about the Cottage Rental Agency.
Photo courtesy cottagerentalagency.com
Established as far back as most can remember, the Cottage Rental Agency has been welcoming eager beach seekers and appreciators of our New Urbanist community for 30 years.   Representing over 200 individually owned homes that are graced with distinctive character and architectural detailing, all guests are treated to a one-of-a-kind experience that they are sure to cherish for years.  Vacation homes offered by the Cottage Rental Agency range from 1-bedroom lock-outs to large 6 bedroom compounds that can easily accommodate multiple families.
Nearly all properties hosted by the Cottage Rental Agency come with exciting amenities and services.  These include complementary bike rentals, a bottle of wine, a beach tote, and use of beach toys including boogie boards.  As if that wasn't enough, CRA also has dedicated concierge staff members that are available to assist with any arrangements to help take the worry out of travel planning.   If you haven't already secured your rental home for our event now is the time to do so.  Only a handful of properties still have availability.  Learn more about the Cottage Rental Agency and explore availability here.
Although accommodations in Seaside are nearly sold out and race tickets are sold out, we do still have tickets available to our first ever Taste of the Race.  This stand-alone event that takes place just two days before the race is sure to become a much-loved South Walton tradition.  Presented by Chef Emeril Lagasse, his show Emeril's Florida, and Visit South Walton- lucky ticket holders will be treated to cuisine from nearly 20 of the Gulf Coast's Top Chefs.  In addition to great food, beverages will be provided by Grayton Beer, Wine World, and Coca-Cola.  And if that's not enough, enjoy live music from country music sensation Trick Pony. Held under climate controlled tents on the Seaside Lyceum, Taste of the Race is quickly becoming one of the most anticipated events of the year!
Tickets to the Taste of the Race are only $99 each.  Tickets can be purchase online here.
We look forward to seeing everyone at the Seaside School Half Marathon & 5K Run and Taste of the Race.  It'll be here before you know it!