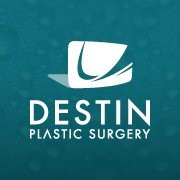 Destin Plastic Surgery wants you to go that extra mile to do something extraordinary. Along the way, they hope you help others and inspire those around you. And that is exactly what they do by sponsoring the Seaside School Half Marathon and 5k
I had the pleasure to chat with South Walton residents, Dr. William Burden and his wife Pamela Burden, recently, both of whom I've known for years through our children's various school and sporting activities.  You will often see Dr. Burden peering through the lens, taking pictures at cheerleading competitions or basketball games, or Pam volunteering at the homecoming dance or donating a multitude of items for any given event.  Although they have a busy practice, they always make time to attend their children's activities, school events and support special events such as the Seaside School Half Marathon and 5K Run.
Dr. & Mrs. Burden founded Destin Plastic Surgery in 1995.  Seeking to make Destin Plastic Surgery a place where you would want to take your family member, they achieved that and more by introducing new techniques to the region, such as microvascular surgery, fiber optic no-scar-on-the-breast surgery, minimal-scar and no-scar-on-the-face surgery, as well as various forms of advanced liposuction techniques. Some of the services offered include breast augmentation, rhinoplasty, facelift, brow lift, liposuction, hair transplant, BOTOX, Skincare & Peels, vein treatment, along with many other services.
As a hard achiever in high school and college with an interest in software development, Dr. Burden worked to make Destin Plastic Surgery one of the first digital offices in the country and was introduced to improve the communication between the patient and himself.  Dr. Burden felt that, "by being able to visualize the results, patients had a better understanding of what was possible… communication is very important."  He spends as much time as necessary with the patients in consultation.
Dr. Burden and Pam Burden have expanded the practice to include skincare and non-surgical options such as Botox and laser treatments to offer patients who are not ready for or do not need surgical treatments but want to be the best they can be.
The combination of high patient satisfaction, advanced surgical techniques, 20-years' experience and a knowledgeable staff make Destin Plastic Surgery a frequent destination for those along the Emerald Coast and from around the world!  Something to celebrate along with its 20 year anniversary is the completion of the 5000 square foot expansion, bringing the medical center space to over 20,000 square feet.  Future goals include expanding services to fill up that space.
When asked what impact the race has on the local community, Dr. Burden shared, "While in the area, participants see the community at its finest and will understand all that is available to them in our piece of paradise."
The Burden's hope that their sponsorship will help the race attract new visitors which, in turn, will create new friends for our community and improvement in the opportunities available to the families in the South Walton, Seaside, 30A and Walton County area.  Dr. Burden feels that 30A is a great location for the race.  "All one has to do is walk along the 30A trail and take in the surroundings.   You are surrounded by unique natural beauty and geography not seen elsewhere in the world."
The Burdens sponsored the race because the race represents their personal and business theme…  Strive to be better.  Go that extra mile to do something extraordinary.  Along the way help others and inspire those around you.  That about says it all.
To learn more about Destin Plastic Surgery and its services, visit www.theplasticdoc.com.   Share your race training, travel adventures and race weekend moments on Instagram #seasidefl5k. The Seaside Schools and the Seaside School Foundation thank Destin Plastic Surgery for its support.  Happy 20th Anniversary.
Visit emeraldcoastkids.org for kid-friendly tips, events, babysitting and more along the Emerald Coast.  emeraldcoastkids © #plasticdoc #seasidefl5k #30a #SoWal #seaside #running #5ktraining.  See you at the race! 
ABOUT THE AUTHOR: Kellyanne Bartleson, www.EmeraldCoastKids.org:  
The author is parent volunteer, Kellyanne Bartleson, creator of www.EmeraldCoastKids.org.
EmeraldCoastKids.org is an online resource guide for all things kids, teens & families for Walton & Okaloosa Counties. It includes links to events & local calendars; places & things to do – attractions, restaurants, shopping, fishing, boating, camping, etc.; school info, STEM, tutors, learning games, bus schedules, etc.; childcare, babysitters, after school care & KNO; after school activities, lessons & classes (sports, swim, art, drama, golf, dance, music, etc.); party ideas, venues & cakes; teen stuff (driving, college resources & scholarships, health & fitness, learning to driving); summer camp listings & vacation ideas; local emergency contacts, community service, fitness & nutrition, pets, DIY/crafts, recipes, churches, freebies (kids eat free/coupons); and more!  Do you want to know where kids eat free?  Need a babysitter? Need to go shopping or explore a new local beach? Do you know when spring break is or how to sign up for local sports? Do you need to plan a party? Need to check out local or national news? Want to volunteer?  This website is for locals and visitors and has tons of useful info. Contact Kellyanne if you would like an upcoming event promoted for free, your business listed for free or would like info on inexpensive premium advertising.
When she's not working on a blog or her website, Kellyanne is most likely volunteering; cheering on her daughters at a cheerleading or drama performance; working on a DIY project; reading a good book at the beach; or spending cherished, quality time with her family. For more info, visit www.EmeraldCoastKids.org.