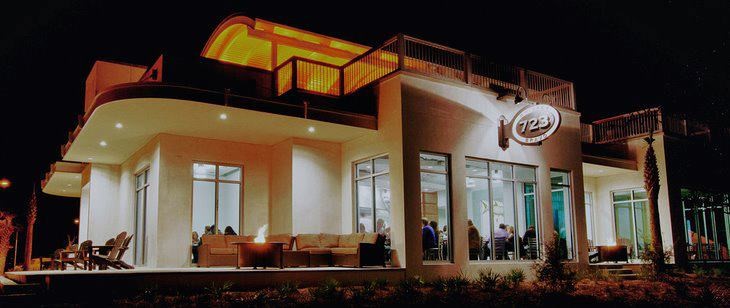 723 Whiskey Bravo is somewhat of the new kid on the block out here on 30A, but boy did they make an entrance! If you haven't had the pleasure of dining there, you have at the very least likely driven by the restaurant and noticed this beautiful white modern building, just a hop skip and a jump from the Gulf. Founders Skip and Victoria Moore, like so many others, fell in love with 30A and had always dreamed of opening an amazing neighborhood restaurant. They decided to leave Atlanta and settle here in Florida and bring their vision to life. People often ask how they came up with the name 723 Whiskey Bravo.  They were married on July 23rd and have a passion for flying. They combined their wedding date and favorite call letters from the aviation alphabet: W for Whiskey and B for Bravo. I can personally say that if you haven't experienced grabbing a drink in their open-air modern rooftop bar, you are truly missing out.
As for the menu, Whiskey Bravo has a lunch menu, a dinner menu, a 5 for $15 menu, and a kids menu for the littlest of diners. A few current favorites include:
Fresh Grilled or Fried Grouper Sandwich

Grilled Yellow Fin Tuna Sandwich

Saint-Barths Salad Nicoise

Crispy Calamari Salad

Crispy Duck Spinach Salad

Fried Shrimp Wrap

Victoria Salad (a unique item on the menu) Delicious mixed green salad topped with a fresh angus beef patty

Braised Beef Short Ribs

Pasta Bolognese

And my favorite dessert there, the Key Lime Pie. It's amazing!
We love their story and hope you will go check them out for lunch or dinner, if you haven't already. We are thrilled to have them on our team for Taste of the Race with Chef Emeril Lagasse. We look forward to seeing what they have on the menu for us that night.  February 27th will be here before we know it. If you still need to buy your tickets, click the link below.  See you there!
If you are visiting or a local and looking for 30A events in February, this is an event you don't want to miss! To purchase tickets to "Taste of the Race," and have the opportunity to meet Emeril Lagasse, please visit http://www.tasteoftherace.eventbrite.com.  This event will sell out, so plan ahead and purchase tickets today.
Author: Laura Porter