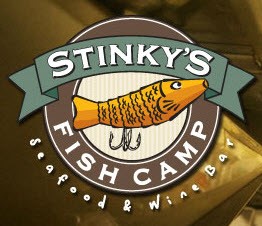 Chef Jim Richard heads up a culinary dream team of sorts here in South Walton. Between Stinky's Fish Camp and his other restaurant Lake Place, he has Chef Janca, Chef Misener, and Chef Withall all cooking up amazing dishes for us locals and tourists alike. Chef Richard grew up in Louisiana and attended the Culinary Institute of America in New York.  However, you don't have to read Chef Richard's bio to know he has culinary chops (pun intended).  His food speaks for itself.
Everyone knows Stinky's and everyone loves Stinky's.  Their motto is "It is what it is and It ain't what it ain't."  What it is, is a fun and relaxed family seafood restaurant and wine bar that uses only the freshest ingredients and seafood. What is aint? It's not stuffy and off-putting. From the minute you walk in the door, you feel welcomed as if you are entering into a friend's home for dinner…a really yummy dinner! My son Hayden loves Stinky's and if we ask him where he wants to grab dinner, "Stinky's" is more often than not, his answer.  Below is a sample from their current menu, the first being my little guy's personal favorite:
Spiced Boiled Snow Crab Legs

Sautéed Shrimp & Grits

Smokey Braised Short Ribs

Stinky's Stew

Panne Chicken Fettuccini

Crawfish Pie

Surf and Turf

Stinky's Fresh Fish of the Day
They offer Taco Tuesday from 11-3 and an amazing Sunday Brunch from 10-3.
If you don't have plans for Valentine's Day and want a relaxed and easy going dining experience, check out their Valentine's Day Tasting Menus. They are offering a Three Course Menu for $50 and a Four Course Tasting Menu for $60.  With great enthusiasm and anticipation, we welcome the team at Stinky's Fish Camp to our lineup at Taste of the Race.
If you are visiting or a local and looking for 30A events in February, this is an event you don't want to miss! Join Emeril Lagasse at the "Taste of the Race!" To purchase tickets, please visit http://www.tasteoftherace.eventbrite.com.  This event will sell out, so plan ahead and purchase tickets today.
Author: Laura Porter