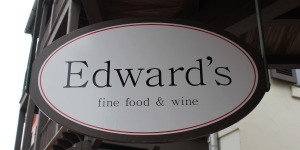 Edward's Fine Food & Wine in Rosemary Beach is one of our absolute favorite date night or small group gathering spots for dinner. Have you ever dined in a restaurant where the food is amazing but the ambiance is lacking? Or the atmosphere is perfect but the food misses the mark? Well, Edward's is everything you could want in a neighborhood restaurant. Nestled in the most charming spot right in the heart of Rosemary Beach, start your evening with a glass of fine wine and enjoy their nightly live music. Sit outside under a now covered patio, at the chef's bar where you can watch the magic happen, or inside in a quaint intimate dining room.
One night not too long ago, my husband and I had an unexpected evening without our boys. We decided to head to Edward's to grab dinner. We sat on the patio and ordered a bottle of wine we love (and it's impossible to find-Seasmoke), and eased our way into a slow and perfect evening. Suddenly we found ourselves in the pouring rain. Tables all around us were filled, and despite the rain, everyone simply sat closer to their table and attempted to seek shelter under the table umbrella. The rain couldn't ruin our evening.  And if you know me, I'm like a cat. I hate the rain and don't enjoy getting wet unexpectedly. It's that kind of place. It's charming and romantic, while never feeling pretentious. Oh, and let's not forget the delicious food.
Chef Ed Reese has been a chef for nearly three decades. He studied at the acclaimed Culinary School at Johnson & Wales University in Charleston, South Carolina. He then had a coveted opportunity to work under James Beard Award-Winning Chef Frank Stitt in Birmingham.  After many years there, he and his wife Erin moved their 6 children back to their roots, the Florida Gulf Coast. After working various places on 30A, they together made a longtime dream come true, and opened Edward's in Rosemary Beach. 
Here are a few of my personal favorites off their current menu:
Tuna Tartar with Dijon, lemon, capers, cornichons, shallots, arugula and grilled Tuscan bread. You MUST order this small plate. It's so good I could eat it for dinner!

Edward's Crab Cake with jumbo lump crabmeat, MacFarms arugula, citrus segments, and a lemon aioli

Grilled Cheese and Tomato Soup

Local Arugula Salad

Pan Roasted Fish of the Day

Grilled Flat Iron Steak

Fish Tacos

Homemade Ice Cream Sandwich
We are so happy that Chef Reese and his team agreed to participate in Taste of the Race. I am hoping he will consider serving tuna tartar and grilled cheese and tomato soup, but whatever they add to the "Taste" menu, I know we will love it. If you have never dined there, you really are missing out. And if there's a wait, hey, grab a glass of wine….you get to "wait" in Rosemary Beach after all.
If you are visiting or a local and looking for 30A events in February, this is an event you don't want to miss! Join Chef Emeril Lagasse in person at the "Taste of the Race." To purchase tickets, please visit http://www.tasteoftherace.eventbrite.com.  This event will sell out, so plan ahead and purchase tickets today.
Author: Laura Porter/RegalStephens.com