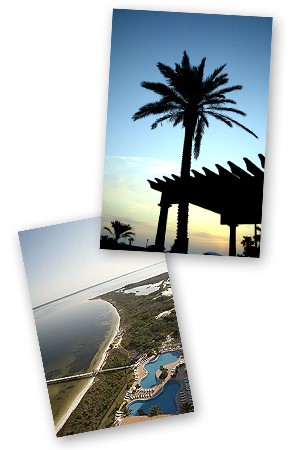 Imagine driving along a picturesque coastline for miles and miles like a scene right out of a movie. For many of us, we call this scenic drive "home" while record numbers travel from all over the world to visit our slice of paradise.  If you continue on this scenic drive west about 60 miles from Seaside in Walton County, you will stumble upon the world's longest barrier island, located on Pensacola Beach in Escambia County. It is here that you can get a glimpse of both the coastline of the Gulf of Mexico and the shoreline of the Santa Rosa
Bay… absolute paradise. 
…the treasures of our Pensacola Beach resorts are yours to enjoy.
Premier Island Management Group can help you vacation in this paradise. The owners, Rob Babcock and Michelle Evans, both live on Pensacola Beach with their families, and want you to experience a memorable family vacation or provide suitable business trip accommodations.
Premier has everything from value-priced family-friendly condominiums to sophisticated luxury suites to amenity-filled rentals to accommodate every traveler.  There is plenty to do nearby whether you are looking for local attractions, the Pensacola Beach Boardwalk, museums, the charming downtown historic or the many antique shops located in nearby Destin, Santa Rosa Beach or along Scenic 30-A.
Great value. Great variety. Great views.
To work for Premier, you must be detail-oriented, service-minded professionals and excel in the areas of rental management, guest relations, reservations, lodging, club operations, marketing, accounting, housekeeping, and maintenance, and work together as an effective team. Rob and Michelle are committed to making sure that their company provides the BEST service for both its owners and guests.
"Always exceed the expectations… by making every experience memorable."
Premier is proud to be an active part of the local community and not only sponsors the Seaside School Half Marathon, but also partners with organizations such as the Pensacola Beach and Pensacola Chambers, Pensacola Area Convention and Visitors Bureau and Visit Florida.
"…it was a five-star experience"
The Seaside School Foundation thanks Premier Island Management Group for its support. Visit www.premierislandcollection.com to book your vacation rental now! Don't forget to share your race travel adventures and race weekend moments on Instagram #seasidefl5k.   
Visit emeraldcoastkids.org for kid-friendly tips, events, babysitting and more along the Emerald Coast.  emeraldcoastkids © #premierislandmgmt #seasidefl5k #30a #SoWal #seaside #running #5ktraining.  See you at the race! 
The author is parent volunteer, Kellyanne Bartleson, creator of www.EmeraldCoastKids.org.
EmeraldCoastKids.org is an online resource guide for all things kids, teens & families for Walton & Okaloosa Counties. It includes links to events & local calendars; places & things to do – attractions, restaurants, shopping, fishing, boating, camping, etc.; school info, STEM, tutors, learning games, bus schedules, etc.; childcare, babysitters, after school care & KNO; after school activities, lessons & classes (sports, swim, art, drama, golf, dance, music, etc.); party ideas, venues & cakes; teen stuff (driving, college resources & scholarships, health & fitness, learning to driving); summer camp listings & vacation ideas; local emergency contacts, community service, fitness & nutrition, pets, DIY/crafts, recipes, churches, freebies (kids eat free/coupons); and more! This website is for locals and visitors and has tons of useful info. Contact Kellyanne if you would like an upcoming event promoted for free, your business listed for free or would like info on premium advertising.
When she's not working on a blog or her website, Kellyanne is most likely volunteering; cheering on her daughters at cheerleading, drama or softball; working on a DIY project; reading a good book at the beach; or spending quality time with her family. For more info, visit www.EmeraldCoastKids.org.