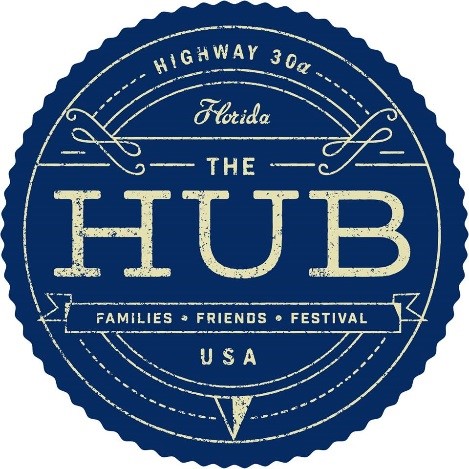 FAMILES. FRIENDS. FESTIVAL.  These words perfectly describe what the upcoming Seaside School Half Marathon and 5k represents, but it is not the motto of the race, rather, it is the motto of the soon-to-open spot for families and friends to gather… THE HUB.
What is the HUB? Well, in the dictionary, it is defined as "the central and most active part or place".  That's about right.  THE HUB will definitely be the central place and an active part of the community for family and friends to meet. Currently under construction, it's located on Highway 30a near the Prominence development. The HUB will be family-friendly, offering great restaurants, outdoor entertainment, shopping and music. There will definitely be something for everyone.
Ice cream? Check.General store? Check.Outdoor entertainment? Check.Music series? Check. Restaurants for everyone pallet? Check.So much more? Check
While no official grand opening has been planned, the owners have planned a Cinco de Mayo celebration that will feature local musical guest, Dread Clampitt.  According to Brad Zeitlin, Managing Partner, "THE HUB will be an incredible family and friends gathering place with great entertainment, fantastic food and shopping.   THE HUB has a 25' outdoor movie theater and a 2,000 square foot concert stage." THE HUB will be a go-to spot for families along the Emerald Coast. B.Y.O.F. BRING YOUR OWN FAMILIES. Another motto from THE HUB.
When asked why THE HUB chose to sponsor this particular event, Mr. Zeitlin shared that his children attended the Seaside School and his family has always been supporters of the race.  "Our children went to The Seaside School and we value how integral Seaside and the School has been to the development of our community and children."
In general, the race has a huge impact on our local community, its economy, its worldwide exposure and the reputation garnered from visitors from all over the world. Perhaps THE HUB will host next year's race visitors and play a part in 1) bringing awareness to the South Walton, 30A, Seaside area; 2) offering family friendly events during race weekend; and 3) representing the spirit and beauty of South Walton.
The Seaside School Foundation, the Seaside Schools and The HUB welcomes  all of the participants and the locals that will take part in this year's race to make this bigger and better than any other of its kind.
To learn more about THE HUB, visit www.hub30a.com.  Share your race weekend moments on Instagram #seasidefl5k.
Visit emeraldcoastkids.org for kid-friendly tips, events, childcare and more along the Emerald Coast.  emeraldcoastkids © #thehub30a #seasidefl5k #30a #SoWal #seaside #running #5ktraining.  See you at the race!
ABOUT THE AUTHOR: Kellyanne Bartleson, www.EmeraldCoastKids.org: 
The author is parent volunteer, Kellyanne Bartleson, creator of www.EmeraldCoastKids.org.
EmeraldCoastKids.org is an online resource guide for all things kids, teens & families for Walton & Okaloosa Counties. It includes links to events & local calendars; places & things to do – attractions, restaurants, shopping, fishing, boating, camping, etc.; school info, STEM, tutors, learning games, bus schedules, etc.; childcare, babysitters, after school care & KNO; after school activities, lessons & classes (sports, swim, art, drama, golf, dance, music, etc.); party ideas, venues & cakes; teen stuff (driving, college resources & scholarships, health & fitness, learning to driving); summer camp listings & vacation ideas; local emergency contacts, community service, fitness & nutrition, pets, DIY/crafts, recipes, churches, freebies (kids eat free/coupons); and more! This website is for locals and visitors and has tons of useful info. Contact Kellyanne if you would like an upcoming event promoted for free, your business listed for free or would like info on premium advertising.
When she's not working on a blog or her website, Kellyanne is most likely volunteering; cheering on her daughters at cheerleading, drama or softball; working on a DIY project; reading a good book at the beach; or spending quality time with her family. For more info, visit www.EmeraldCoastKids.org.