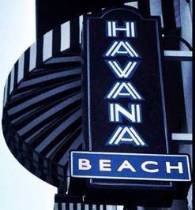 Havana Beach Bar & Grill in The Pearl Hotel is in the heart of Rosemary Beach, Florida.  The talent over there will be cooking for lucky ticket holders tonight at Taste of the Race. This is the kick-off event to a big weekend here on 30A.  Sunday runners young and, ahem, not so young, will be running their hearts out in the annual Seaside School Half Marathon & 5K Run. This Friday night event is unique though in that this is the first year for Emeril Lagasse to host, and for "Taste of the Race." Over 20 of the Gulf Coasts hottest restaurants will be cooking up some fine cuisine, while diners sip on something from Wine World, Grayton Beer, and/or Coca Cola. Live Music will be a big part of the evening as well, provided by Nashville sensation, Trick Pony. All of this under heated tents.
The Pearl Hotel in Rosemary Beach is one of the newer hotels in the area and with it opened a great new hang out and eatery, Havana Beach. The restaurant draws inspiration from Hemingway's Cuba, Full of Life and the Joy of Living Well. The food there has influences from Old World Spanish Cuisine, Portuguese and French Cuisine, and of course, Gulf Coast Americana influence. They serve breakfast, lunch, and dinner daily. I will say from experience, make reservations if you plan on dining for dinner. A few favorites from the current dinner menu include:
Braised Pork Belly
Cheese and Charcuterie (who doesn't love a beautiful Charcuterie?)
Cured Ham and Artisan Cheese Empanadas
Classic Cuban Chicken Sopa
Marinated Octopus with a Jalapeno Jam
Lump Crab and Avocado in a lime vinaigrette
Grouper with black rice, andouille, sofrito, shoots
Short Ribs with whipped parsnips-YUMMY!
Paella-such a beautiful dish
And a wide range of sweets to please even the fussiest of diners (yours truly)
I don't know what they will be adding to the menu tonight but I am sure it will be Cuban and Gulf Coast Americana inspired and will not disappoint. We are just hours away from this much anticipated event here on 30A and I for one am excited. See you there?
Join Chef Emeril Lagasse in person at "Taste of the Race." To purchase tickets, please visit http://www.tasteoftherace.eventbrite.com.  This event will sell out, so plan ahead and purchase tickets today.
Author: Laura Porter