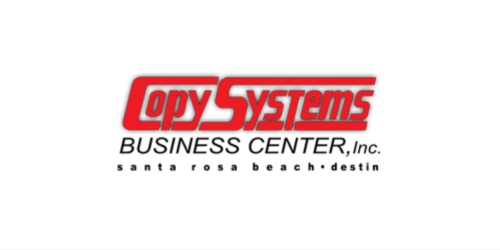 Seaside Neighborhood School and Foundation are excited to announce Copy Systems Business Center, Inc as a continuing sponsor for this year's race. Copy Systems is a local company that supports many non-profits and educational organizations throughout "one of the most beautiful places on earth!"
Open since 1995, Copy Systems Business Center is a full-service business center with locations in Destin (Okaloosa County) and Santa Rosa Beach (South Walton, Walton County). Copy Systems specializes in print materials and signs. They also offer binding, laminating, custom printing, letterhead, custom products (such as pens, huggies, shirts, hats) and signage (such as banners, real estate signs, vehicle wraps, flags, stickers).
Copy Systems has been very active in numerous local charitable events for the past 20 years. They do their best to provide quality service and products to all local businesses, especially those that cater to the tourist and vacation markets.
Copy Systems is eager to continue supporting the Seaside School Half Marathon and 5K race because offering its products and services to events like this and being part of the community effort to bring special events to the area is important to the local economy. Copy Systems provides the necessary printed materials, banners and signage for all aspects of the race.  Its sponsorship helps to make all phases of planning and execution go smoother by quick turnaround times of printed items needed for the event.
The impact of the race on the local community is important and Copy System owner, Paul Woolman, agrees. "Any event that attracts thousands of visitors can't be a bad thing. With regional and sometimes national advertising, our area is showcased as 'the place to go' for both vacation and activity entertainment. South Walton and 30A offer one of the best areas for a race because of all the natural trails and quaint
communities that offer all the amenities of larger cities while maintaining that remote atmosphere."
Paul's goal for race sponsorship is that Copy Systems will continue to be recognized as the local personal and professional business center for all those who take part in this event throughout the year. "We hope to grow with the community while providing the best of the best in all printing needs," Woolman comments.
Copy Systems continues to grow its business year after year. After 20 years in the area, it has proven that it is here to stay. They are always looking for better ways to improve the best and most efficient means of providing valuable products to businesses and individuals in our area. With two convenient locations, they are able to take care of almost any challenge.
Copy Systems would like to welcome all of the participants and the locals that will take part in this year's race. To learn more about Copy Systems, visit www.copysystemsonline.com  The Seaside School Foundation thanks Copy Systems for its continued support.