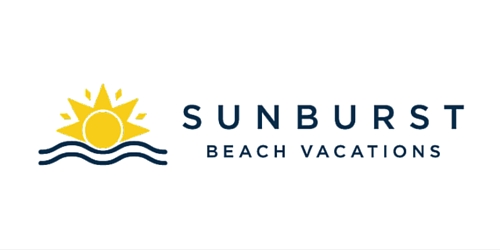 Sunburst Beach Vacations is the company to call if you are looking for customer service with a smile… a variety of inventory to find your perfect beach location… and positive reviews that every business owner dreams about — "we will DEFINITELY recommend Sunburst…" "Sunburst Beach Vacations was EASY to work with…" and "We would definitely use Sunburst again. Everyone we dealt with was professional and very pleasant."  
 If you are traveling from out-of-town for the annual Seaside School Half Marathon and 5K Run, there is a good chance that your vacation rental is managed by Sunburst Beach Vacations. Sunburst Beach Vacations offers over 100 beach rentals that include gulf front beach homes, condominiums, gulf view homes, and rentals with private pools within several unique beach neighborhoods along Scenic Highway 30A. They are a small, locally owned company with intimate knowledge of the 30A, Seaside and the South Walton area, and they can provide professional, friendly advice to create the perfect Florida beach vacation to fit your every need.
Sunburst Beach Vacations, located in Walton County, Florida, has many accolades to its name:
"Top Finalist" (Accommodations category), Perfect in South Walton 2015 Best of the Best Awards (2015, inauguration year);
"Finest on the Emerald Coast"  (Vacation Rental Company category), Northwest Daily News (2011 and 2012);
"Favorite Vacation Rental Company" in southwaltonscene.com's  Best of 30-A online poll (2009, final year poll conducted);
"Bulldog 100, Fastest Growing Businesses" by the University of Georgia Alumni Association (2012, 2013 and 2014); and 
A+ Rating by the Better Business Bureau Business Accreditation by consumers (as of January 2013).
The Owners of Sunburst (Steve and Payson Howard and David Leuze) have had all 6 of their sons graduate from Seaside Neighborhood School (SNS) and have experienced firsthand the positive impact that the School has had on their community. Steve and David have also volunteered their time at the school, including coaching several SNS sports teams.
Sunburst is actively involved in the local 30A community and It's Owners and Associates have been and are currently serving on Boards for our communities, schools, youth sports programs, arts and churches. Sunburst is a major sponsor of the Seaside Neighborhood School and its race, the Seaside Repertory Theater and the 30A Songwriter's Festival (Cultural Arts Alliance).
According to owner, Steve Howard, "Sunburst sponsors the race not only because the school is a fabulously worthy cause, but also because the participants of the Race are our Guests and customers. Roughly half of the 100+ homes we manage are within walking distance of the start/finish line in Seaside."
Learn more about Sunburst Beach Vacations, its rentals, concierge service and free beach gear included in each vacation stay, by visiting http://www.sunburstco.com. Capture and share your race training, travel adventures and race weekend moments on Instagram using the hashtag #seasidefl5k. We Love Our Sponsors! #runseasidefl #seasideflmarathon #30a. The Seaside Neighborhood School and the Seaside Foundation thank SUNBURST BEACH VACATIONS and look forward to seeing everyone at the race!  #sunburst #seasidefl5k #30a #SoWal #seaside #running #5ktraining.