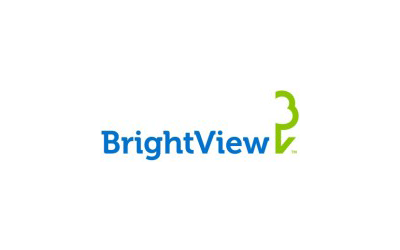 As you may or may not know, legacy companies Brickman and ValleyCrest merged last year. Both family-founded companies pioneered the landscape industry with a commitment to the same values – the continuous pursuit of improvement and innovation, a highest regard for safety and professionalism, and most importantly, a key focus on customer relationships and satisfaction. This parallelism made it easy to forge the path to a smooth transition to becoming BrightView.
But, let's back up with a little history before we get too far into what's around the bend, shall we? Brickman and ValleyCrest both began as small privately owned landscape companies founded in 1939 and 49, respectively. Over half a century and a few generations later, both companies grew to become the nation's leaders in the landscape industry. Each offering a breadth of services including the capabilities to design, install, and maintain beautiful landscapes – as well as divisions in Tree Care, Golf Course Maintenance, and Sports Turf Management to name a few.
Theodore W. Brickman was a horticulturalist with the Chicago Parks District before branding his own name as landscape service provider in 1939. 20 years later, his son, Dick, would join forces after pursuing a degree in Landscape Architecture, making it a family business. This addition quickly led to the expansion of services to include Landscape Design & Construction. FUN FACT: Brickman's first maintenance contract was McDonald's Headquarters in Chicago, IL. Ray Kroc himself hired Brickman to provide design/build services for his new corporate office but insisted Brickman maintain his landscape "forever", and thus began the company's maintenance services.
If ever there was a self-made man look no further than the life of ValleyCrest founder, Burt S. Sperber. Burt learned landscaping and tree-moving at a small local nursery in North Hollywood, California. At 19 he brought his father, Lewis, on as a partner and purchased the nursery, first incorporating as ValleyCrest Landscape Nurseries, Inc. What started out as a small shed of used hand tools and an old truck, would one day become the largest integrated landscape services company in the nation employing over 11,000 people and servicing in over 150 locations nationwide. ValleyCrest's first major contribution to the industry came after being recognized as experts in large specimen tree moving -Burt's brother, Stuart, revolutionizing the tree business in 1961 with the innovation of growing trees in boxes for better transport – a method that is still used today. FUN FACT: ValleyCrest was selected to be a part of an elite team responsible for transporting the Endeavour Space Shuttle 12 miles through L.A. which was the first mission of its kind and the last space shuttle built by NASA. Think about that the next time you see one of the company's signature "big red trucks."
Now that you know a little more about where these companies came from, let's look at where they are going. The name BrightView evokes progression while giving an honorary nod to the organization's legacy brands by carrying forth the 'B' from Brickman and the 'V' from ValleyCrest. In the words of BrightView's CEO, Andrew Kerin, "BrightView is more than a name; it indicates what is to come. BrightView reflects our optimism for the future and our drive to create greater value for our clients. It embodies our excitement to leverage the strengths of our combined company to enhance how we care for our people, our clients and our communities. It also enables our team members and clients to take pride in trusted relationships and solutions that matter." Both legacy companies are still currently operating under the legacy names, but you can expect to see the new brand this year.
The Seaside School Foundation would like to thank the legacy Brickman-ValleyCrest for its commitment to our community as a proud second year sponsor of the Seaside Half Marathon and 5K and we look forward to seeing their team at the race!